Let's start with an update before we get to our topic this week. At the beginning of the Pandemic in March, we began offering Zen Fridays in our desire to be of service to you during the quarantine. We also began putting out our blog weekly with relevant topics to the Working from Home situation that many of our readers found themselves in. Many of you have been reading our weekly blog and attending our Zen Friday's events with rave reviews! We have appreciated each week and felt honored to serve in this way. We look forward to your continued feedback on what is most important to you.
Transitioning Our Teams for the Next New Normal
"I am still making order out of chaos by reinvention." —John le Carre
The transition back to the "office" can best be looked at in phases, short-term, mid-term, and long term. They may be conducted separately, consecutively or overlapping. While we need to start planning for this transition, we should look at this as a critical, and pivotal time to take advantage of the opportunity to innovate a new way of doing business and creating team engagement and team development.
The short-term phase (below) is engaging and restructuring our teams. What does it take to get them re-engaged and restructured to deliver immediately? The focus is making the workplace safe, policies and procedures that keep the team members safe while helping them be productive – bringing in the revenue and controlling the outflow of cash. The midterm phase is seeking ways we need to adapt now, and the question is: "How do we reinvent ourselves?" Both phases require agility.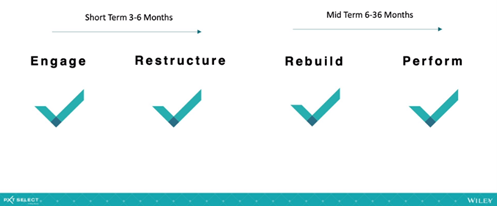 Let's look at the short-term first. The pandemic presented incredible challenges for our teams, and as leaders we needed to rapidly navigate the shift to remote working while maintaining business continuity and employee well-being. The pandemic is not over. There is no vaccine. However, the opportunity to bring people back into the office will soon be upon us. So now, as leaders we are asking: How do we transition back to the office safely? What is the cost of maintaining a safe and healthy workplace? Who do we need in the office, immediately to get the company moving forward again? Who are the right people and what are the right roles? Who is essential right now?
If some people are brought back, how can we keep our teams engaged in their work, with each other, and with the organization? Who on the teams will want to continue working from home, for whatever reason? How does bringing some people back and not everyone affect everyone's SCARF domains (Status, Certainty, Autonomy, Relatedness, and Fairness). See our past blog on SCARF reference.
Getting settled into the new norm
We can get people settled into their new norm by getting them the resources, teaming tools, ensuring they are engaged and focused on their work. We are seeing this as an important need from our clients and from feedback our colleagues for team engagement and team communication. In a past blog and webinar, we discussed the SCARF model and how teams can be triggered in SCARF domains. When we get our teams focused on their work it gives them more certainty, control, and autonomy. We can also help teams in "relatedness" and engagement by ensuring they cross team boundaries and work on projects together maximizing strengths and staying connected. Connection remains super important right now and during the transition. We learned from our Zen Fridays and SCARF surveys that "relatedness" is a both a strength and a need for many.
Maximizing strengths in teams
We use several different Team Models across our clients and teams. In working with team strengths, one of our favorite models is the "Z" model found in the Team Dimensions instrument. There are four stages of teamwork, especially when needing to be creative and innovative and the "right people" differ depending on the stage.
Team projects usually travel through a series of stages. These stages often move from Creating to Advancing to Refining to Executing (the "Z" process). In our next blog, we will have a more in-depth conversation how to utilize this process.
Communication
Yes, we have heard it many times before…communicate, communicate, communicate. However, there is even more of a need in our remote world and teams are begging for it (subtly and not so subtly). It is easy to blast electronic messages, though we need to take the time to pick up the phone. We must ensure our communication is predictable and clear. You can use an instrument to understand how to best communicate with different behavioral styles such as the one we use with our clients, Everything DiSC. We need to have periods where our teams can work in burst and alternate communication times. At the very least, we need to talk to each of our team members more often and ask what they need right now, and communicate -- even when we don't know the answers -- until they tell us they have had "enough!". So, it is as important to have formal progress check meetings as it is to have informal personal check-in or social meetings. We are hearing this from our most successful clients and colleagues!
Now let's talk about the Mid-term phase. How do we reinvent ourselves?
As Simon Sinek stated: We need to ask not "How do we do what we are doing?, but rather How will we do what we're doing in a different world And the world is different." How will we preserve what we had that is still relevant today and how do we let go of what no longer serves us, our teams, and our organizations? This can be a tough stance to take, since we most likely are seeking certainty now, but we cannot let up. We need to quickly figure out what's relevant now and what isn't. We will discuss more about how we can be innovators and early adopters as we move forward.
In a recent HBR article "Preparing Your Business for a Post-Pandemic World", they recommended the following 5 P's:
1) What position can you attain during and after the pandemic? 2) What is your plan for bouncing back? 3) How will your culture and identity change? (perspective) 4) What new projects do you need to launch, run, and coordinate? 5) How prepared(ness) are you to execute your plans and projects?
We are here for you and we want to be of service to you during this critical time, so use us, please. We are passionate about our work and have many years leading teams and running business (many virtual). Call or email us. Let's start a conversation, even if you don't know where you want to go at this moment.
What's next for you? What is the burning question/challenge you have for you and your teams? It may be part of a future article.
Lead on! Let's connect!
P.S. See below for additional resources.
Lori Heffelfinger and James Jackman
James Jackman, MSOD & Lori Heffelfinger, MSOD, PCC 310-543-7632 office www.heffelfingerco.com
References and Resources:


Never doubt that a small group of thoughtful committed citizens can change the world. Indeed, it is the only thing that ever has. – Margaret Mead