"Find a group of people who challenge and inspire you, spend a lot of time with them, and it will change your life." ~ Amy Poehler


We previously announced that our website has a brand-new look. If you haven't had a chance to explore it yet, you'll want to make sure you click around to see all the new resources that we currently have available.
In particular, we want to draw your attention to the blog library on our new website.
Our mission has always been to help organizations overcome invisible obstacles, build trusted leaders, and inspire high-performing teams. Through our blog, we're sharing our years of expertise with you for free.
You can learn more about leadership, company culture, organizational transformation, and more on our blog. If you've never worked with us before, we hope this free resource will provide you a glimpse into what it could be like working with The Heffelfinger Company. We'll show you how we can help your teams learn and what areas of expertise we have to share.
If you're a current client, think of our blog as a place where you can dive deeper into subjects that we cover with you. It can be beneficial to have a spot you can refer back to or something that can bring new team members up to speed.
Team Development
How a team interacts is one of the most important and complicated parts of running a successful business. If you're noticing that recent changes due to remote work, team member exits, mergers, or more, have thrown off the balance of your team, we're here to help.
At The Heffelfinger Company, we help companies develop aligned, high-performing teams. That can be at the leadership level, project team level, and across teams or departments. We can also help teams of teams for more robust team development. In general, our preference is to work with the leadership team or leaders and their teams for the biggest impact...
When you work with us, we focus on ways that you can improve trust and communication among your team. That includes finding constructive ways to debate and offer feedback. This is crucial for creative problem solving, addressing customer requirements, and working more effectively. It also ensures that team members feel more invested and committed to the decisions made. This is important for retention and overall work satisfaction.
We also work with you to ensure that your teams are aligned on key priorities and strategies. You'll notice how much more can be accomplished when everyone works towards the same goal.
When teams aren't aligned like this, you'll notice things feel redundant, frustrating, and ineffective. It keeps your organization from being able to adapt quickly and thrive in the long term.
Our Leadership Team Alignment Method
If your organization is struggling right now, you're not alone. The events of the last two years have caused unprecedented changes in company culture and structure. It only makes sense that things have to be re-evaluated and realigned.
When we work with organizations, we follow our team alignment method: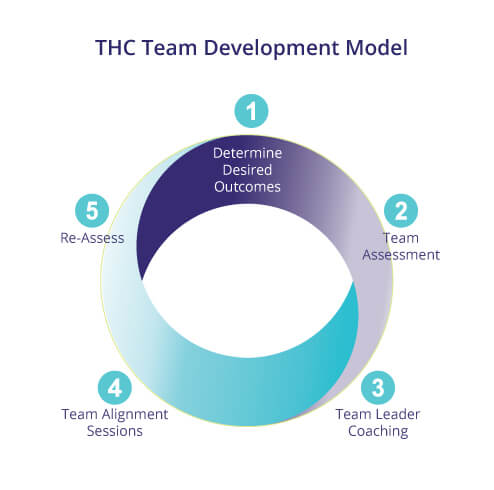 1. Determine the desired outcomes

2. Complete a team assessment

3. Provide team leader coaching
4. Guide team alignment session(s)
5. Reassess as necessary




Resources for Teams

For more resources on teaming and leadership, remember to check out the blog area we mentioned earlier. We have categories for each and plenty of extra information that can be helpful for all organizations.
If you're ready to get your team realigned, reach out to us today to discuss how The Heffelfinger company can help.
Best Regards, Lori and James
Lori Heffelfinger & James Jackman
Supporting Business Leaders to transform cultures and transition through the pandemic and beyond.