"The only way to do great work is to love what you do." Steve Jobs
We want to share some of our learnings about engagement and passion in the workplace. Having read Keith Ayers' book Engagement Is Not Enough and using the Employee Passion Survey with our clients, we have seen that it is better to measure and create Passion rather than employee engagement. Many of our clients have spent tens of thousands on engagement only to see a marginal improvement that is not sustainable.
In 2014, Deloitte released a comprehensive report that found 87.7% of employees don't have passion for their work, and so they don't contribute to their full potential.
Research conducted by Intégro Leadership Institute discovered that a large majority of employees fit into the typical "engaged" category. However, of these engaged employees, only half are passionate about the organization. This Gap - the passion deficit - underlines the hidden emotional disconnect among otherwise engaged employees.
The Intégro Employee Passion Survey ranks employees using 5 levels. Employees that rate themselves as passionate about the Work and the Organization are Level 5; these are your truly passionate employees and your future! Those employees that are passionate about only the work are Level 4, and at risk of leaving when someone offers them a similar job with another firm. An engaged employee can rate themselves at level 2. They will do exactly what you want and they will keep you right where you are.
Organizations whose employees are emotionally connected to both their work and the organization are the leaders in their industries. There is a performance difference between employees passionate about the job and the organization and those passionate for only the job.
The Passion Pyramid™ identifies five human needs that ignite passion, the leadership skills needed to create the conditions to satisfy each need, and then describes the outcome or payoff to the organization for satisfying the need.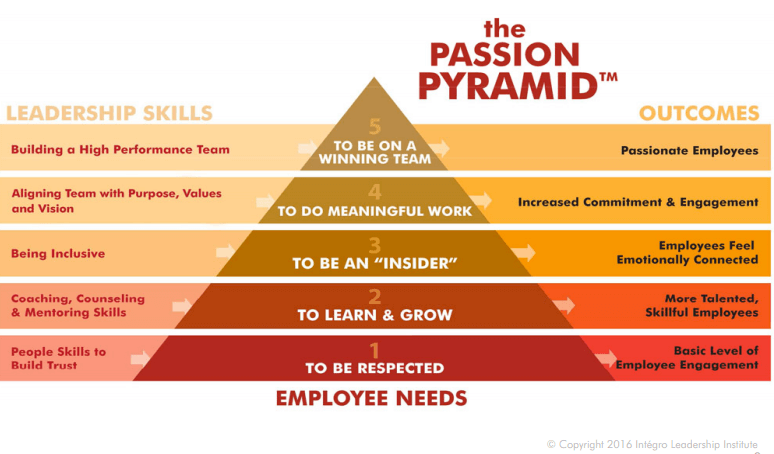 Employee Need 1. The Need to Be Respected: This is not rocket science; people need to be treated with respect. They need to be listened to and know that what they do is valued by their leaders. There are many ways leaders unintentionally treat employees with disrespect, and nothing disengages them faster.
Employee Need 2. The Need to Learn and Grow: People have a natural desire to develop their talents and do things that utilize their strengths. They want to perform at their best. To do that, they need to continue to learn and grow in their roles.
Employee Need 3. The Need to Be an Insider: No one likes to feel left out. Feeling judged or that you are being treated differently kills engagement and passion. Great leaders believe in people and make them aware of their significance.
Employee Need 4. The Need for Meaning: People need to know that what they do is meaningful, that it makes a difference. They need to understand the purpose behind what they do and how it contributes to their organization's success.
Employee Need 5. The Need to Be Part of a Winning Team: Being a part of and contributing to the success of a winning team generates team spirit. High-performance teams significantly outperform other similar teams because they are fueled by a shared passion for what they do. While defining these needs is straightforward, many leaders do not possess the necessary leadership skills to meet them. If they did, the level of engagement in the workforce would be much higher than it is. Leaders need a path to follow to develop the foundational beliefs and skills they need to succeed. This book provides that path in the form of a four-step process.
Source: Engagement Is Not Enough: You Need Passionate Employees to Achieve Your Dream, by Keith Ayers
Creating passionate employees is not easy and doesn't happen overnight, but you can create it. And, it starts at the top!
How passionate are you about your company vision? How are you fostering passion in your employees?
We at The Heffelfinger Company are passionate about creating a passion in the workplace. We have invited Keith Ayers to come all the way from Australia to share his research and learnings about trust and passion in the workplace. We hope you join us.
In case you have not yet registered, we have placed the links to the events below. If you cannot attend either event, please let us know and we will schedule a small group discussion.
In the meantime, stay passionate!
James and Lori