The essence of life takes place in the neutral zone phase of transition. It is in that interim spaciousness that all possibilities, creativity, and innovative ideas can come to life and flourish." Susan Bridges
In our last blog, we talked about the new "crisis fatigue," the Kübler-Ross Grief Cycle, and ways to support social and emotional wellbeing in the workplace. This week we will share Bridges Transition Model and how to support teams through transition stages to enhance creativity, innovation, and renewal.
Since the Pandemic, we have been discussing several ways to support ourselves and teams, such as Mindfulness practices, the use of the SCARF Model, and The Five Behaviors of a Cohesive Team. We use these methods and processes with ourselves and our clients. The pandemic has brought new situations to our lives and work and has brought the end to others.
We are noticing, the further we are into the Pandemic, that stress is intensifying with many of our clients (e.g. depressed children who aren't in school with friends, parents having to quit or take leaves of absence in order to help kids with online schooling, and leaders wrestling with how to support employees facing these challenges).
And this in the backdrop of everything we have been experiencing all along and heating up (e.g. political polarization and friends/family at each other's throats, social unrest and very divergent reactions, extreme weather events, contradicting information/opinions on COVID, mask-wearing, safety-related precautions, etc).
Sometimes we just want to say: "What else could possibly happen?" "What else can we endure?" "What are we supposed to believe?"
We know that leaders, employees, and families increasingly need connection, community, and compassion (even if they seem like they don't need this support). We will continue to have conversations about these topics and how to support each other as leaders and those we lead.
Five Keys to Support Your Team During Times of Unprecedented Change
(Georgetown University, Leading in Times of Hyer Change, and the Bridge's Transition Model)
Key One - Build and maintain workplace community. We need community now more than ever:
As individuals implement social distancing measures, we realize how much we crave social connectedness. Workplaces are one of the most important communities we have in today's society.
As leaders, our role is to create a place of emotional safety. This means adjusting work policies, encouraging people to share their fears, and recognizing that different individuals may need different things from their community. Leaders need to live into their equity values and shift to more inclusive and adaptive decision-making by lifting the voices of people with less formal authority, giving staff more autonomy, and considering the equity impacts of decisions. Treating each other with humanity in the workplace is critical, especially in moments of crisis.


Key Two - Recognize the psychological process people go through in times of change:
The Bridges Transition Model is a change management model often used in organizational change. The strength of this model is that it focuses on the transition to change. It's this transition that's often uncomfortable for people, leading to resistance.
According to Georgetown University and the Bridges Model, transition is internal, and it is the psychological process people go through as they come to terms with the new situation. Transition happens inside of your mind when you face change, and it can happen slowly over time. Leaders need to show empathy and recognize that each individual will go through their own transition to adapt to our new reality.


Bridges Transition Model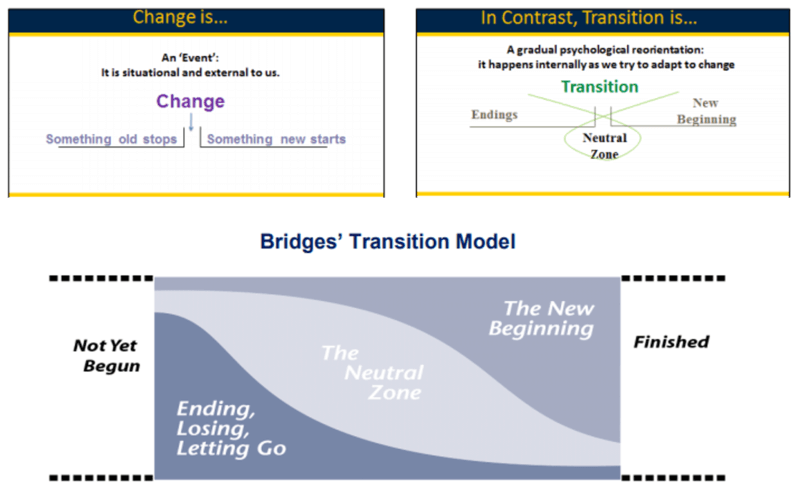 Stage 1 of the Bridges Model. Ending, Losing, and Letting Go: Everything is suddenly different. People enter this initial stage of transition when you first present them with change. This stage is often marked with resistance and emotional upheaval because people are being forced to let go of something that they are comfortable with. At this stage, people may experience these emotions:
Fear
Denial
Anger
Sadness
Disorientation
Frustration
Uncertainty
A sense of loss
In this stage, it's important to accept people's resistance and understand their emotions.
Key Three - Support people through the "messy middle" of change:
Stage 2 of the Bridges model is The Neutral Zone or the "messy middle": In this stage, people affected by the change are often confused, uncertain, and impatient. Though this stage can be one of creativity, innovation, and renewal. This is a great time to encourage people to try new ways of thinking or working.
Georgetown refers to this as the "messy middle," which is where we are in organizations and as a society right now. During this stage, people feel disoriented, unclear, and anxious over the future. With the Coronavirus, these feelings are amplified by the many societal implications: Will there be a recession? What if someone I care about gets sick? Can I afford health care costs if someone gets sick? How can I work when my kids are not in school?
Throughout this period, it is important to open regular communication channels across the organization. Individuals in positions of authority should model with authenticity and humility in communication. Informal communication is also critical during this time of change and remote work. It is okay to admit that you don't have the answers, but share information often and name the anxiety that people may be feeling.
Stage 3 of the Bridges' Model is The New Beginning: The last transition stage is a time of acceptance and energy. People have begun to embrace the change initiative. They're building the skills they need to work successfully in the new way, and they're starting to see early wins from their efforts. At this stage, people are likely to experience:
High energy
Openness to learning
Renewed commitment to the group or their role


Key Four - Emphasize self-care over productivity, right now:
Many employees are overworking in fear of losing their jobs if they do not, and may also be dealing with other stressors such as childcare, online school, elderly parents, etc. Modulate your expectations right now.
American work culture prioritizes productivity and efficiency. During this time, many organizations need to acknowledge that less productivity is okay. The constant state of stress and uncertainty literally triggers emotional and physical reactions in our brain. People do not have the emotional bandwidth to work at the same pace that they may be used to, and that is okay. Leaders should prioritize self-care as a workplace norm, not something to do in your personal time. Organizations that are on the frontlines—such as direct service providers, hospitals, and clinics—also need to prioritize self-care to ensure their staff can handle the long arc of this pandemic. Ask people to prioritize their self-care, model that yourself, and talk about why mental health is particularly important during times of stress.


Key Five - Respond with support, not discrimination:
Coronavirus does not discriminate based on race or ethnicity. Organizations need to create environments that actively promote inclusion and diversity. Humanity in the workplace means taking care of each other in sickness and in health.
"While most of us—young and old—fear adversity, research shows that up to 70 percent of people who overcome trauma report positive psychological growth (Linley & Joseph, 2004). Of course, the last thing someone wants to hear when they are experiencing trauma or loss is: "You'll grow from this." On the contrary, what we most want is for others to understand our pain and suffering, and not feel alone. (Psychology Today)
We do hope you are having open forums where leaders and their teams can openly express themselves and be human.
We are currently offering 90-minute experiences (or series of experiences) for large and small groups to share and process through Storytelling, Mindfulness, and Whole Person Integration practices to improve focus, contribution, and well-being.
We know many of you servant leaders could use some self-care, too. So be sure to put your oxygen masks on first! We are here for you.

Be well and be safe!

Lori and James

Supporting business leaders and HR/OD Leaders to transform cultures and transition through the pandemic and beyond.
Lori Heffelfinger, MSOD, PCC & James Jackman, MSOD
P.S. We are excited to share our newest offering of Gatherings for Teams and Groups: In 90-minutes (virtual or in-person), participants find meaningful connection, greater focus, restored wellbeing, strengthened commitment, and improved ability to contribute at work and in life.
Every Gathering features a different theme which can be customized, though shares a common framework:
Person to person connection for emotional health
Meaningful conversations to process experiences
Evidence-based mindfulness practices
Infusion of the arts through music or poetry
Please ask us more about Gatherings for your teams. We genuinely want to support you and your teams during this time. Email or call us (310-850-6605) to schedule 15-minutes to explore solutions for your teams.